This year the summer solstice marked the beginning of massive flooding in Alberta. It started when Cougar Creek in Canmore got a record amount of rain in a just a few hours, followed by even more rain for the next few days. Now, two days later the flood waters have moved on to Medicine Hat and Drumheller, leaving four dead and massive destruction in it's wake.

Ever since I first heard about the flooding on Thursday afternoon, I have been completely drawn in by the coverage. I have friends who have been evacuated in Canmore and Bragg Creek – I have been following the story on Twitter, the weather network, and news feeds from small town newspapers and the major news companies.
We used to live on Moraine Road in Canmore, a few streets from where the TransCanada highway was wiped out by Cougar Creek. The creek was my main transportation route. I walked and biked along and beside it, or hiked along the dry creek bed almost every day.

The first time I took Jasmine and Paris for a walk after they were born, I took them across the pedestrian bridge that was nearly englufed by the raging creek.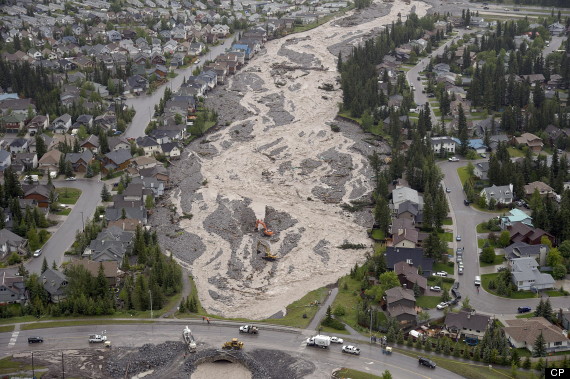 Cougar Creek is dry most of the year. In spring when the snow on the mountains melts, the water starts to run in the creek. One year Tom was on our front deck when he heard a loud crack. He looked up at Grotto mountain in time to see a mud slide. By nightfall, water had started flowing in the creek.
There has been flood dammage before, but not on this scale, at least not since the valley was developed. After the floods started Canmore was cut off when the TransCanada and highway 1A became impassible. Then the flood hit Calgary, and most of the coverage centered on Calgary. There have been some stories and images, including this post in the Huffington Post by Patrick Lamontagne, which includes some great images but it has been hard to get news from Canmore.One reporter, Global's Jayme Doll has been reporting from Canmore via Twitter and filing reports with her cell phone.
We had many friends in Canmore who had to evacuate their homes. Some of them live along Cougar Creek. Some have been allowed to return home. Others will need to wait until they find out if their homes are safe to return to. East of Canmore, communities in Exshaw, Morley and the Siksika Nation also suffered major flood dammage.
The flow of the creek was so strong it has transformed the landscape – dragging away backyards, roads and highways. The floods have moved on, but there is a lot of work to do. My thoughts are with everyone who has been affected by the floods. We have a lot of work to do.